In-person summit | UK — June, 6–7
Verdantix EHS Summit EMEA:


EHS Resilience In The Age Of ESG
Join us for
2 days

and gain the insights you need to be a

change-maker!

Today, businesses are facing a combination of increased volatility, budgetary pressures, climate risk and the challenge of meeting ambitious ESG and net zero goals. Building on the vital role played by EHS functions in helping their businesses navigate the pandemic, those same teams will now be expected to take a lead in ensuring corporate resilience as their firms transition to a harsher and more tumultuous operating environment. As a result, they are setting new priorities, redefining their strategies and developing new ways of influencing their businesses.

While the increased focus on sustainability offers the opportunity to continue to increase the visibility, resourcing and remits of EHS teams, it also has the potential to pull resources from the core task of ensuring worker safety. In a new world of unknowns and increasing operational scrutiny, EHS executives must evaluate and balance competing demands if they are to effectively meet the demands of their stakeholders.

This summit will provide EHS leaders with an understanding of the new priority areas for EHS functions, share insights into how firms are responding to these trends, and provide actionable guidance on how technology can enable you to design and manage a function that is fit for the future.
Agenda
June 6–7, 2023 | In-Person Summit
Want to get involved?
Do you have an amazing story or incredible insight? We'd love to have you speak at our event. Reach out to Layla Sienne, [email protected], for sponsorship and speaking opportunities.
08:50 - 09:20
Registration
Registration & Networking
Summit Overview & Welcome
An Approach To Environmental Protection In An Intergovernmental Research Organization
CERN, the European Laboratory for Particle Physics, is fully committed to environmental protection and transparent reporting. This presentation will outline the organization's commitment to becoming a role model for environmentally responsible research, explain concrete objectives for environmental stewardship, and reflect the proactive approach to environmental protection across the Laboratory.
Strengthening EHS Governance: Building Bridges With The CFO, COO And CSO
The changes brought about by Covid-19 and the ever-increasing requirements of ESG disclosures are fundamentally altering the role of EHS leaders, creating more touchpoints and dependencies with other corporate functions. 80% of the 302 EHS leaders in the latest Verdantix survey state that they are key decision-makers or owners of ESG strategy in their firm. This session highlights increased visibility into the stakeholder landscape for EHS professionals and discusses the opportunities for creating an EHS hub that delivers impact across the organization.


Learning outcomes:
What are the key EHS-related touch points now in focus for executives?
What opportunities, and risks, do EHS professionals face with increased exposure to executive functions?
How EHS functions can help create strong ESG strategies.
Making An Impact: Looking At Sustainability Through The Lens Of EHS
ESG and Sustainability issues affect all of us. This session will include examples of the ties between EHS and Sustainability, as well as considerations of how each of us can have an impact.
11:30 - 12:20
Technology Outlook
Roundtable Discussions
Choose your topic and brainstorm ideas, share challenges and leverage experiences with the peers at your table. After 30 minutes of discussion, each group will summarize their findings to the entire audience.
12:25 - 12:45
Trailblazer
Innovation Trailblazer
Networking
Use our Whova app to set up meetings with your peers
SHINE APP
Jincom introduces the SHINE APP, a cutting-edge solution delivering critical visual HSE content precisely when and where needed. With 15 years of expertise in life-saving visual content, Jincom has developed an advanced system for targeted content distribution.
Presented by Jincom
13:45 - 13:55
Verdantix Welcome
Morning Overview & Welcome Back
Upgrade EHS Data Quality To Prepare For Financial ESG Scrutiny
As ESG reporting becomes mandatory, firms will find that investors, lenders and board directors scrutinize a broader range of EHS and sustainability disclosures. This session will explore how technology can support EHS executives in capturing and reporting on EHSQ data that are trustworthy and provide best practices for creating a futureproof compliance framework that elevates the EHS function.


Learning outcomes:
What type of requirements will EHS data address to meet extensive financial scrutiny?
How can EHS functions build a strong data foundation to support financial ESG scrutiny?
What type of solutions exist to support firms in their data collection, management and reporting?
14:35 - 15:00
Verdantix Workshop
Future-Proofing EHS With New Digital Solutions: Five Breakthrough Technologies
In a fast-paced operating environment, EHS leaders need to anticipate the changes that will impact their business operations and safety culture. This session will explore five new technology trends that will allow you to operate at scale, faster and with fewer resources, whilst providing an optimal experience for your stakeholders.
Carbon Management And Climate Risk: A Leadership Opportunity For EHS
According to data from the World Economic Forum, environmentally related failures and disasters rank within the top 5 concerns for both the short term (2 years) and long term (10 years). Natural hazards increasingly knock linear infrastructure out of action, as well as triggering environmental spills and process safety events. As corporate leaders move from discussing long-term climate goals to mitigating the impact of extreme weather events, this session will discuss the issues caused by more intense natural hazards and provide a framework for developing an upgraded environmental risk management plan.
Day Two Summary & Upcoming Events
Venue
Stamford Bridge
Join us at Stamford Bridge, one of the oldest football grounds in the country and home of Chelsea Football Club since their formation in 1905. Stamford Bridge offers a diverse range of facilities. From hotels to museums, fine dining to sports bars, you'll find it all right here.
Stamford Bridge (Chelsea Football Club)
Fulham Road, London, SW6 1HS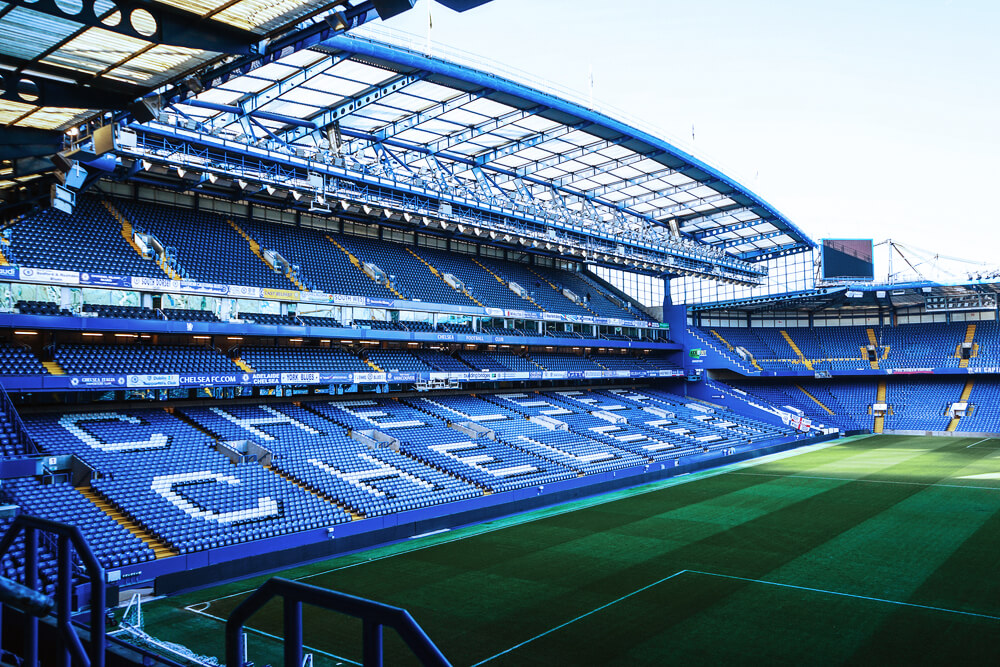 Verdantix EHS Innovation Excellence Awards EMEA 2023
Recognizing outstanding achievements in the field of EHS, Sustainability & Operational Excellence

The Verdantix EHS Innovation Excellence Awards EMEA recognize the people and organizations who are instrumental in implementing innovative strategies, technologies and projects that improve processes, management, reporting and outcomes. By identifying and sharing best practices, we aim to help EHS, ESG, Sustainability and Operations professionals lower incident rates, reduce maintenance downtime, maintain environmental compliance and enhance operational safety.